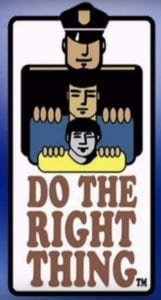 Do The Right Thing Program
Working together for children
Since 1997, the Lee County Sheriff's Office has been spotlighting students who make healthy decisions and positive choices, and volunteer in the community. The goal of Do The Right Thing is to reinforce positive values and choices among students in grades K-12. This encourages good citizenship and community involvement. The Sheriff's Office partners with the business and civic community to hold monthly ceremonies and other special projects to honor our youth's positive endeavors.
We recognize and reward
Each month during the school year, nominations are submitted by parents, teachers, deputies, and community leaders. Nominations may be for any positive act, such as volunteering, standing up to peer pressure, or simply dedicating themselves to their schoolwork. In addition to monthly ceremonies, large groups of students may be honored through the Class of the Month Project, and some winners are honored at a regional awards celebration held each summer.
Spotlighting young role models
All students nominated to Do The Right Thing are considered winners and rewarded with a certificate and letter of recognition. Each month twenty-four students are selected to be honored publicly at an awards ceremony. Winners are spotlighted in the community as future leaders and role models for younger students. They are a source of inspiration and pride for residents of all ages in southwest Florida.
Ready to nominate an outstanding child?
If you know a child whose accomplishment, attitude, or outstanding effort makes them a possible model for their peers, they need to be recognized. Please nominate them today.
Please complete the form below to nominate a candidate for Do The Right Thing. You may also download the form then print and complete it. Email to: TSchall@sheriffleefl.org or forms may be faxed to 239-936-6326.
https://leesyal.org/wp-admin/admin-ajax.php
https://leesyal.org/do-the-right-thing-program
yes