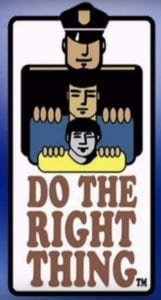 Do The Right Thing Program
Working together for children
Since 1997, the Lee County Sheriff's Office has spotlighted students who make good decisions and positive choices through the Do The Right Thing Program. This exceptional program reinforces good behavior, recognizes noble citizenship, and honors community involvement.
We recognize and reward
Nominations can be submitted by parents, teachers, coaches, deputies, and community leaders. Examples include any positive act such as turning in lost property, volunteering in the community, standing up to peer pressure, or simply working hard in school. Each nominee is considered a winner and will receive a certificate of recognition from Sheriff Carmine Marceno. In addition, twenty-four students will be selected from each month's nominations and honored publicly at an awards ceremony in the Lee County School Board chambers.
Spotlighting young role models
All students nominated to Do The Right Thing are considered winners and rewarded with a certificate and letter of recognition. Each month twenty-four students are selected to be honored publicly at an awards ceremony. Winners are spotlighted in the community as future leaders and role models for younger students. They are a source of inspiration and pride for residents of all ages in southwest Florida.
How Can You Get Involved?
Do the Right Thing is a non-profit program and all funding for the program comes from community donations and corporate sponsorships. Many local businesses have become involved with this program to help make a lasting impact on Lee County students.
Please complete the form below to nominate a candidate for Do The Right Thing. You may also download the form then print and complete it. Email to: aschall@sheriffleefl.org or mail to Tony Schall, Do The Right Thing, Lee County Sheriff's Office, 14750 Six Mile Cypress Pkwy., Fort Myers, FL 33912